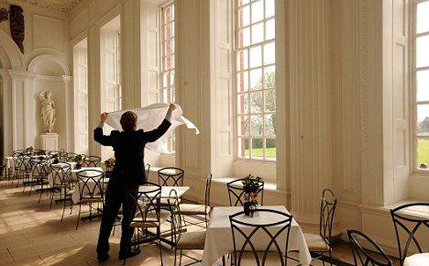 AThe orangery is a garden room which is rich in carefully controlled natural light. It will typically incorporate more solid elements in the walls and roof when compared to its sister building, the better known conservatory. Its roof is likely to be of a lower profile and it may have distinctive columns, pilasters and elaborate fascia details. Originally found in the most fashionable gardens of renaissance Italy the Orangery was used to 'winter' delicate Citrus and Lime trees. This soon developed to include other varieties of tender plants and shrubs and more exotic plants including Banana trees and pomegranates. By using glass to extend the protection and warmth gained from a brick wall the orangery soon proved to be an invaluable component of the grand homes and gardens.
The early classic orangery used glass sparingly as it was a very expensive commodity. When glass making technology improved larger glass sizes became available allowing larger and more elaborate structures to be built. In the cooler Northern regions the Dutch were prominent in developing the concept, introducing more glass and in particular more roof glass. Sloped glazing in the roof dramatically increased Passive Solar heat gain. This in turn created a demand for the orangery to have opening vents in the roof for ventilation, effectively creating micro climates for the propagation of ever more exotic plants.
The Orangery became a symbol of prestige and wealth and a prized feature of the garden. Proud owners would conduct their guests on tours of the garden to admire not only the exotic plants but also the architecture housing their prized possessions. Often including fountains and grottos and entertainment areas. The Orangery at KennsingtonPalace was built in 1761 and represents one of the best examples in the British Isles. The largest of the day, it was designed as an arcade with end pavilions to winter oranges. It did not have glass in the roof and despite its high windows the light levels under its solid roof were too low for it to be successful. We try to learn a lesson from this and always incorporate roof glazing in our designs. Currently open to the public afternoon tea is served at the Kensington Palace Orangery throughout the year, a visit is highly recommended.