Special Offers
Our special offers are either display models, or previously owned second hand buildings
that have recently been replaced with more up to date models.
Display models
Used at exhibitions or in our showroom these are these usually built to a high specification. They have not been exposed to external weather conditions and are and in really good condition.
The price quoted will include installation on your prepared site, so we need to know your location. We will provide a base plan, for your builder, but usually not a site survey or a detailed design consultation.
If you are interested please ask us to send you a floor plan and the height measurements so that you can check out yourself if the dimensions will suit your location. We currently have two large display models and one smaller one.
Check back with us from time to as others become available.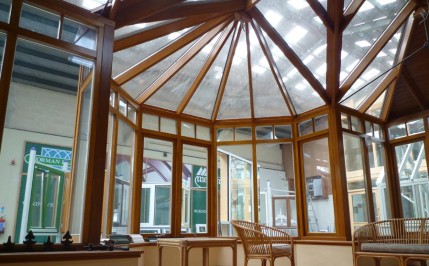 Second Hand buildings
When we are asked to replace a conservatory we sometimes end up with a building that is far too good to be scraped. We carefully dismantle it, and set it aside so that it can be re used. It can then be re-built for a whole new life in its new location. The re-cycle principal is rarely used so effectively, often with outstanding results.
"Anyone who sees it including the former owners can not believe it is 20 years old and have been dismantled and re erected."
– Michael Griffen, Blackrock, Dublin
We currently have one second hand building on offer (and one more in the pipeline details available soon).
Second Hand (Medium)
White uPVC.
Octagonal bay roof.
Double glazed sides, bronzed tinted Polycarbonate roof.
One set of double doors.
Clerestory with stained glass design in triple glazed units.
This is offered as a D I Y project.
Price does not include installation.
Sold as seen and examined.
Experienced installer recommended.
Take care when selecting a display model or a second hand building. These can represent really good value for the right location, but please remember to check carefully that the size and specification is acceptable. We don't normally offer a detailed design consultation as these items cannot be altered or adjusted easily.
If you can't find just what you want, check back later as things change or let us know what you are trying to achieve within the budget set and we will be try to help. We may know about some offers not yet published and might be able to assist you if you are undecided about going for a special offer. It's important to us that you know about the limitations as well as the benefits of our special offers.